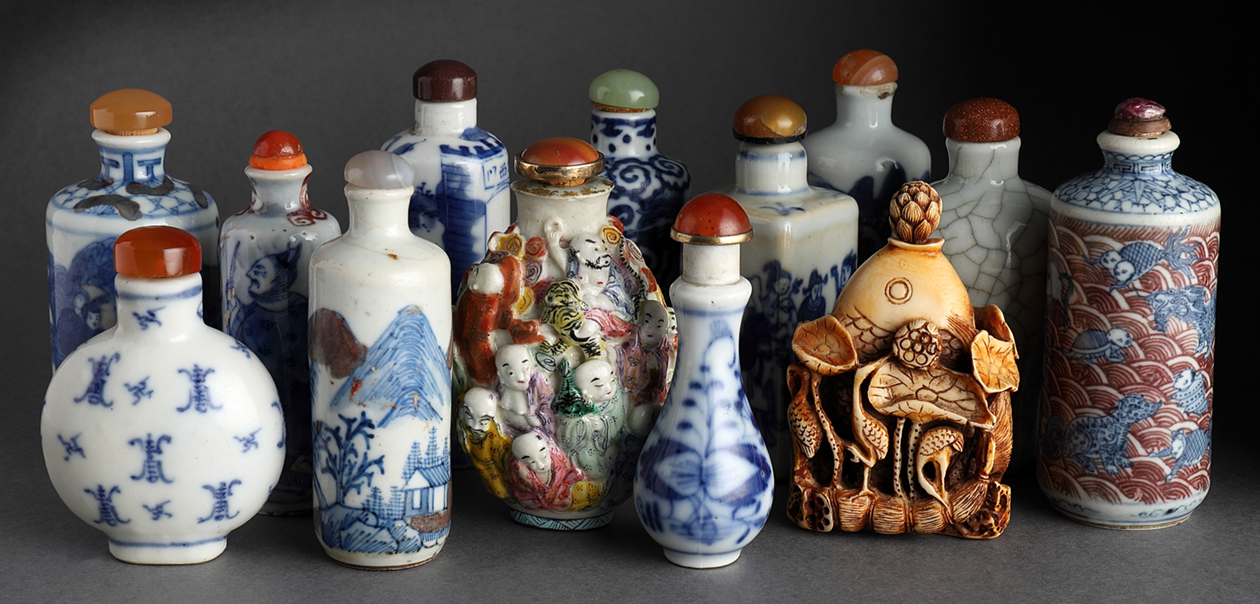 Collection of a Globetrotting Gentleman
Rolf E. Ericssons samling snusflaskor del 1
"Jag är hungrig! försäkrar Rolf E Ericsson. Och jag ger aldrig upp!" Det är två egenskaper som tagit honom till framgångsrika karriärer inom marinen och näringslivet, som egen företagare och även till poster inom politiken. Det har också tagit honom långt rent geografiskt. Av världens 195 självständiga länder har Rolf E Ericsson besökt 194. Det enda han ännu inte hunnit till är Afghanistan.
Rolf E Ericsson har alltid varit en samlare. Kanske har han fått det från sina föräldrar som båda var intresserade av konst och antikviteter. Hans konstsamling är betydande, men samlingen av kinesiska snusflaskor är ännu mer omfattande.
– Det började av rent praktiska orsaker, berättar Rolf. Jag ville köpa med mig något intressant hem från mina resor, och snusflaskorna är ju inte skrymmande, man får handskas varsamt med dem bara. Jag har kunnat flyga med dem i portföljen.
Snart växte hans fascination över de komplexa konstverken i litet format:
– Jag har lockats av att se hur mycket man har kunnat utveckla de små sakerna, jag har fascinerats av nyanserna i den blå färgen och av själva utförandet, det delikata hantverket… och det har varit en bonus att få lära känna många intressanta människor som delar ens passion. Jag har alltid tyckt om att besöka olika antikhandlare på mina resor.
Rolf E Ericsson har ofta köpt 5-10 snusflaskor åt gången, inte nödvändigtvis de dyraste, det har ofta varit med hjärtat, på känsla. Han började samlade dem 1980 och fortsatte till 2015. Sammanlagt har det blivit runt 500 flaskor.
På Crafoord Auktioner är vi självfallet både oerhört hedrade och glada över att nu kunna erbjuda Rolf E Ericssons samling till försäljning, med en sammanhållen proveniens och en enastående styrka i sig själv.
Collection of a Globetrotting Gentleman
The Rolf E. Ericsson Collection of Snuff Bottles, Part 1
"I'm curious! Rolf E Ericsson assures us. And I never give up". Those two qualities have taken him to successful careers in both the navy and the business world, as well as positions within politics. It has also taken him far geographically. Of the world's 195 independent countries, Rolf E Ericsson has visited 194. Only Afghanistan remains.
Rolf E Ericsson has always been a collector. Maybe he got it from his parents who were both interested in art and antiques. His art collection is significant, but the collection of Chinese snuff bottles is even more impressive.
– It started for practical reasons, says Rolf. I wanted to buy something interesting that I easily could bring back home from my travels. I have been able to fly with the snuff bottles in my briefcase.
Soon his fascination grew:
– I have been attracted to see how much you can refine and detail the artwork, I have been fascinated by the nuances of the blue color and the delicate craftsmanship … and it has been a bonus to get to know many interesting people who shares one's passion. I have always enjoyed visiting various antique dealers on my travels.
Rolf E Ericsson has often bought 5-10 snuff bottles at a time, often guided by his heart. He started collecting them in 1980 and continued until 2015. In total, the collection holds around 500 bottles.
At Crafoord Auktioner, we are of course very honored and very happy to be able to offer Rolf E Ericsson's collection of Chinese snuff bottles for sale, with a cohesive provenance and an outstanding strength in itself.